The Draw of the North
August 5, 2013
Holidays on horseback in the Yukon. Originally appeared in the April 2013 issue of www.HorseJournals.com Click here to read full article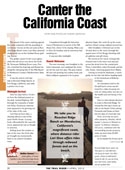 Canter the California Coast
July 14, 2013
Originally appeared in the May 2012 issue of The Trail Rider. We take you to Ricochet Ridge Ranch on Mendocino, California's magnificent coast, ...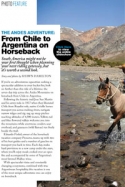 The Andes Adventure From Chile to Argentina on Horseback
April 24, 2012
Originally appeared in April/May 2011 Chronicle Connection http://www.bluetoad.com/publication/?i=68709 Go to page 26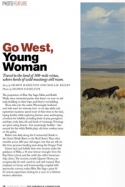 Go West, Young Woman
April 24, 2012
Travel to the land of 100-mile vistas, where herds of whild mustangs still roam.The Chronicle ConnectionFebruary 2012 http://www.bluetoad.com/publica...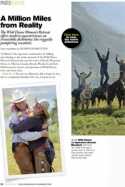 A Million Miles from Reality
April 24, 2012
The Wild Deuce Women's Retreat offers modern equestriennes an irresistible dichotomy: the ruggedly pampering vacation.Originally appeared in June 2011...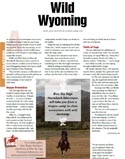 Wild Wyoming
February 12, 2012
Originally appeared in 2011 April Trail Rider Magazine.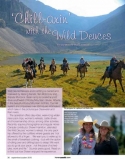 Chill-axin with the Wild Deuces
September 29, 2010
Originally appeared in 2010 September/October Horse Canada Magazine.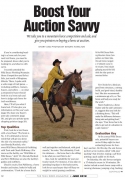 Boost Your Auction Savvy
June 1, 2010
We take you to a mountain horse competition and sale, and give you pointers on buying a horse at auction. Originally appeared in 2010 June Trail Ride...

Wild Ride at Wild Deuce - Womens Explorer Ride
April 29, 2010
The pavement turns to gravel, causing the tin-can rental car to swerve around the bend like a toy car on marbles. Towering trees open up momentarily, ...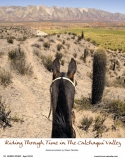 Riding Through Time - Calchaqui Valley
April 29, 2010
Originally appeared in April 2010 Horse Sport Magazine.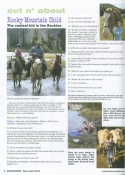 Taylor, The Coolest Kid
April 1, 2010
While on a women's retreat ride in the Rocky Mountains of Alberta, I had the pleasure of meeting eight-year-old Taylor, daughter of Terri McKenney who...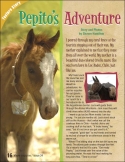 Pepito's Adventure
May 1, 2009
I peered through my coral fence at the tourists stepping out of their van. My mother explained to me that they come from all over the world. My moth...

Crossing the Andes on Horseback
April 10, 2009
If San Martin and his army of 5,423 men, could cross the Andes Mountains by horseback then, certainly, why couldn't I? In January of 1817, San M...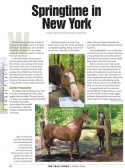 Springtime in New York
April 1, 2009
When the snow melts here in Ontario, Canada, and the bright colors of spring begin to paint the landscape, all I can think of is hitting the trails.&n...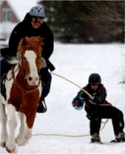 Slide into Skijoring
February 1, 2009
This winter, grab your skis and your horse for rollicking fun the Scandinavian way!